Background
Artly is a barista bot built by a team of coffee-loving former Amazon employees. Much like a video game, it uses deep learning technology to mimic real baristas' exact movements in order to make a variety of coffee drinks. The idea was to democratize high-quality coffee. However, how does a company convince consumers that AI-powered robotics makes anything of high quality? They came to Headword for the full-service package.
Services Provided
Brand Activations
Brand Identity
Campaigns
Content Creation
Digital Design
Experiential
Naming
Packaging
Research & Strategy
Retail
Video & Animation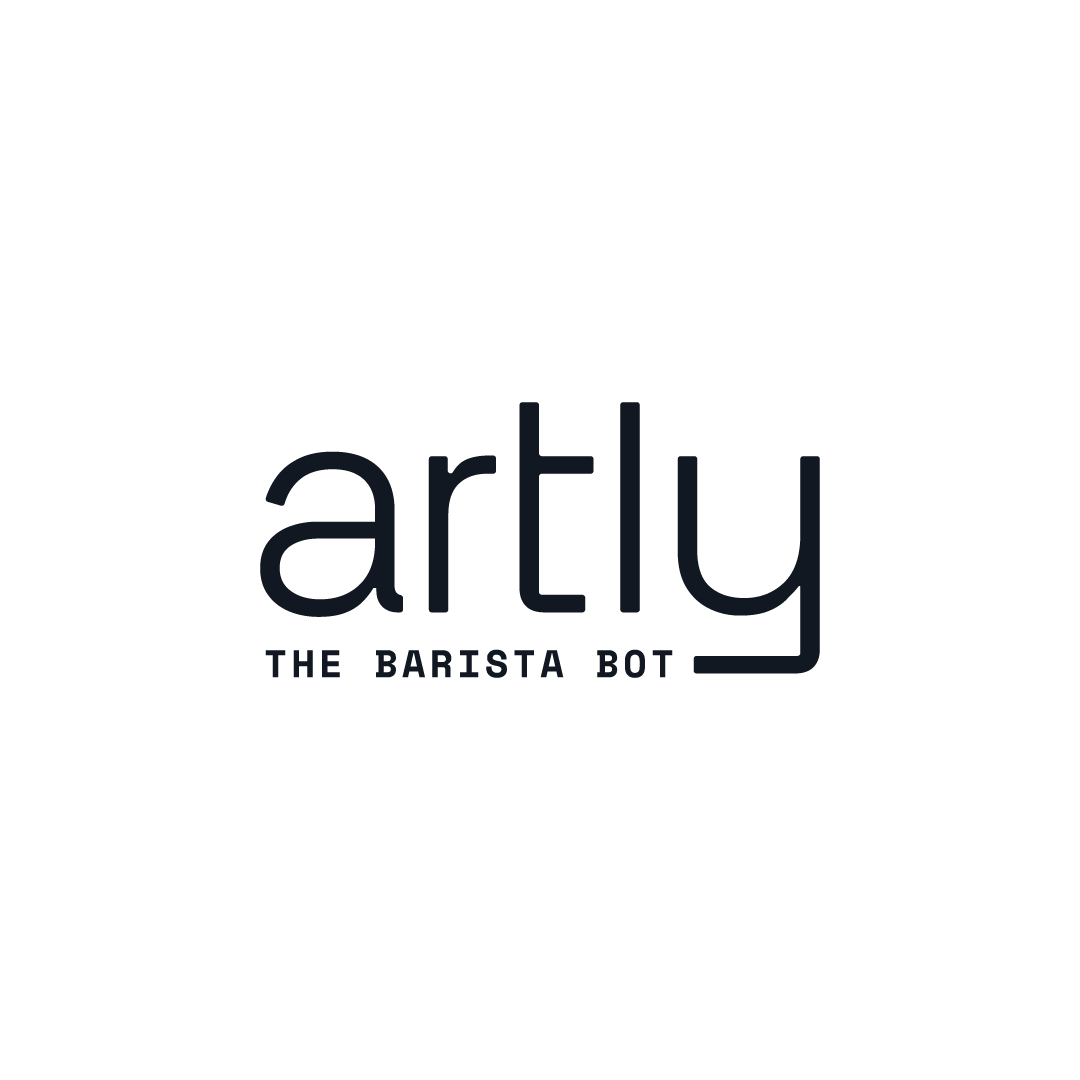 Approach
Artly was a brand created from scratch. We had to develop a unique identity before moving forward with anything else. We did a full brand immersion and came up with Artly's brand character and position, which guided our work for their look and feel.
We had the challenge of making AI approachable and fun, while simultaneously transforming the perception that a robot barista is a vending machine or some form of job replacement.
This was not only an all-new brand, but an all-new form of coffee-making. The market is saturated with coffee shops, but on-demand gourmet coffee made by a robot hadn't really been seen done well before. Thus, Artly introduced a new industry strategy: placing high-quality coffee wherever coffee is not.
Creative
We designed everything including their logos, cups, website, and even their storefronts. We crafted it with a sense of "human meets tech." Inspired by deep learning technology and what Artly sees while going through its programs, we used hand-drawn illustrations of people and machines all linked by a single line. This made Artly more friendly and familiar. This throughline can be seen across their packaging and web presence.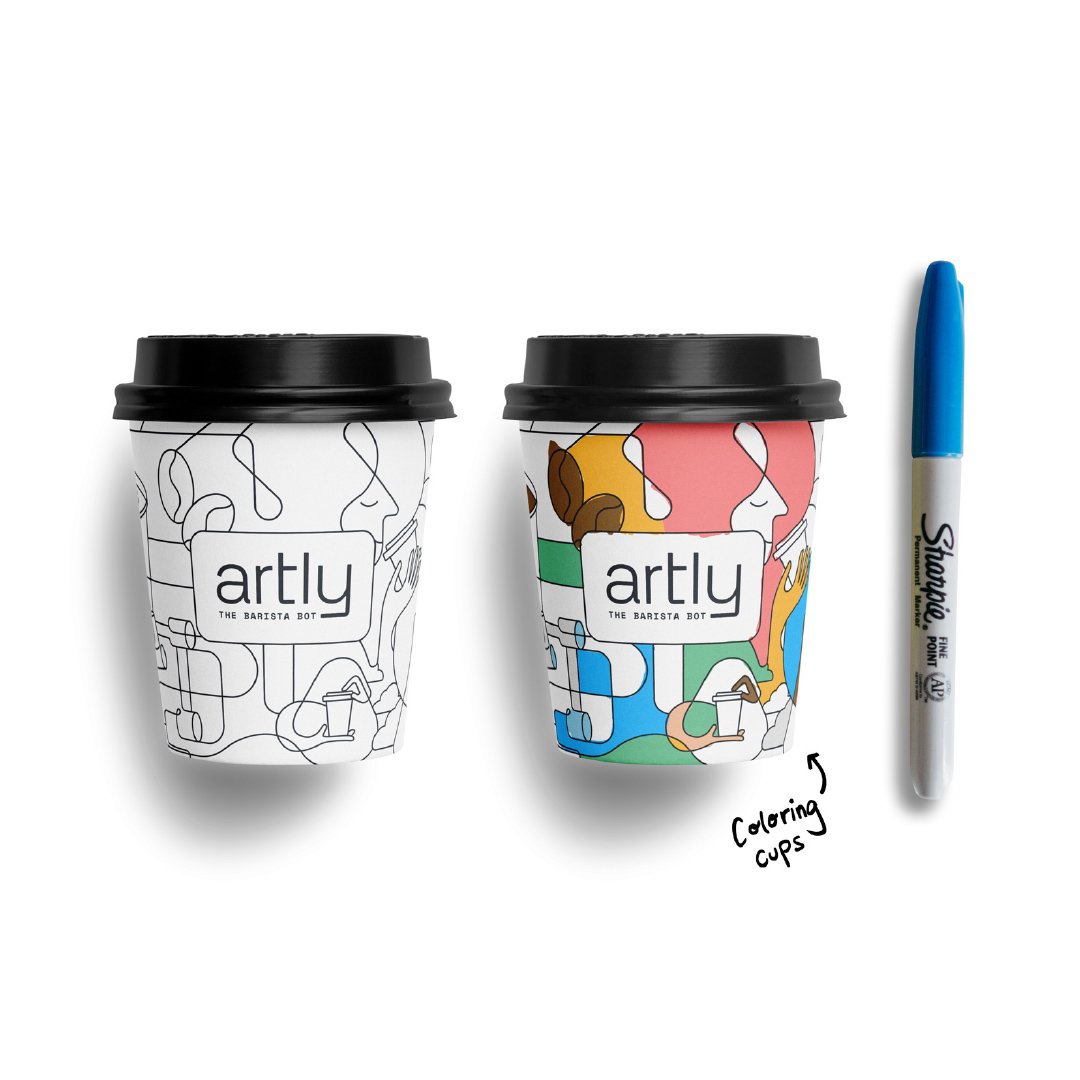 We designed Artly's cups to be colored in by customers, another example of human interaction with tech. Coloring in the illustration gives the sense of a human's touch. This look and feel extends across the brand and is used physically and digitally.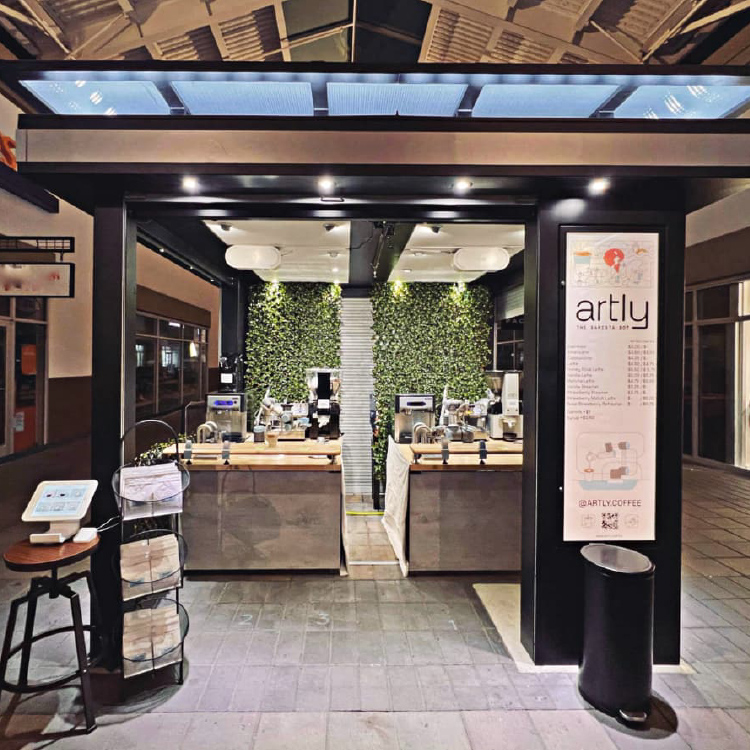 Results
Since our launch of the Artly brand, Artly has grown from zero locations to seven with so many customers that simply one robot is not enough for some locations. They are ever-expanding, and we are so happy to have helped bring a new wave of coffee into the world with Artly.